Barbados Beach Bars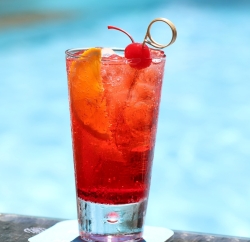 Perched on sandy shores overlooking turquoise ocean waters, these Barbados bars on the beach invite you in to cool down, enjoy local beers and tropical cocktails, and be awed by colourful sunsets.
Some of our bars are casual, where sandals and shorts abound; others are more refined, where you're likely to see more wine than beer. But all serve up legendary Bajan smiles and friendly welcomes to locals and visitors alike.
You might expect wealthy locals and visitors to only be seen at the trendiest drinking spots; or assume that Bajans stay away from more 'touristy' venues. Not so. It's not at all unusual to see the manager of an English Premier League team downing beers at the casual Surfside Bar or to find locals relaxing after work at the bar at The Crane Resort.
Whether it's a rum shop on the beach, an oceanfront lounge, or a boardwalk bar… there's always temping drinks, creative bartenders, and a welcoming crowd.
Barbados Happy Hours On The Beach
West Coast
South Coast
Favourite Barbados Bars On The Beach
Everyone's got their favourite… and here are mine 🙂
The Tiki Bar
A totally relaxed vibe, super food, and a vast array of rum cocktails make The Tiki Bar a fun place to hang out. Tiki is located at the end of Accra Beach (also known as Rockley Beach). You can rent loungers and beach umbrellas for the day, or just chill out in the bar and restaurant. While this beach is popular, it's not as crowded as Carlisle Bay, especially on days when the cruise ships visit Barbados. And this is a great spot for sunsets sips….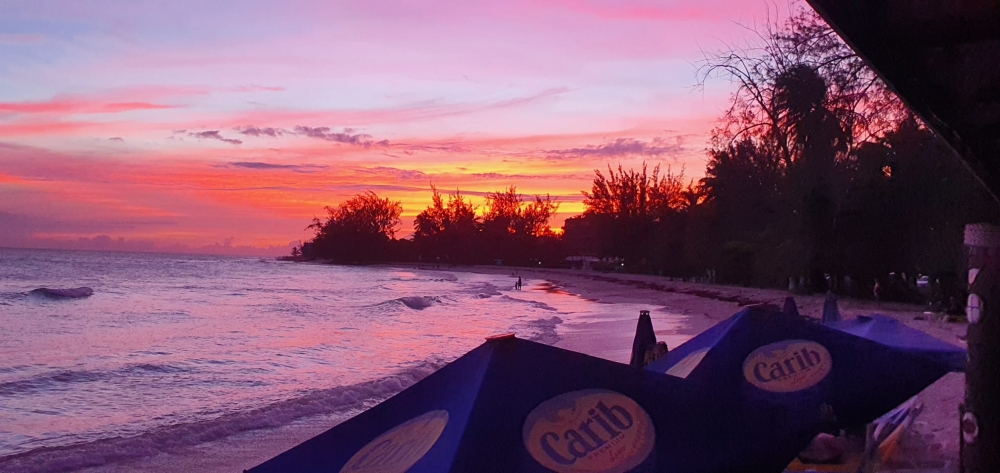 Sea Shed
Let's go from the casual to the chic as we head to the west coast and Sea Shed. Located at Mullins beach along the north-west coast, Sea Shed combines a stunning beachfront location with excellent food & drinks. Rent a beach lounger and spend the day, sip on sunset cocktails, or stop by for an exquisite dinner. The decor at Sea Shed is beach chic, somehow blending whimsical and elegant into a truly inviting ambiance.
John Moore Bar
Let's get casual again… and it doesn't get much more relaxed than John Moore Bar! This iconic rum shop enjoys an enviable location nested along the tranquil shores of Barbados' west coast. Request a bottle of rum, some mixers and ice, then kick back and enjoy the island breezes and ocean view!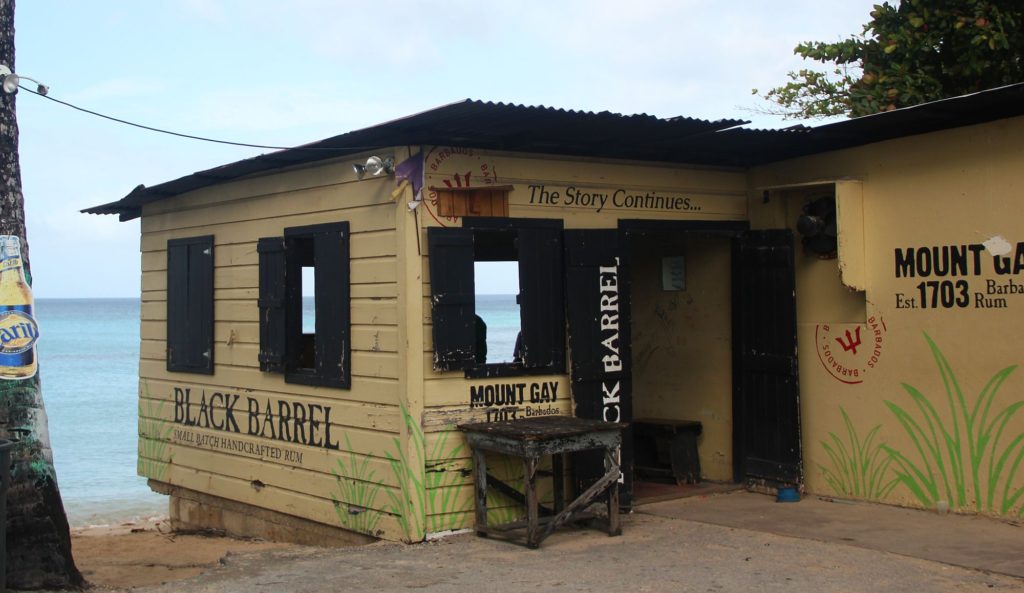 ---
Also on the beach…. a rum distillery!
Yep that's right the West Indies Rum Distillery is located right on Brighton Beach! Established in 1893, this distillery produces rum for brands such as Cockspur and Mailbu.