The Reef Bar & Grill
Get ready to double the fun at The Reef - where the good times come in pairs!
Feel like a champion of chill as you dive into not one, but two daily Happy Hours that'll have you grinning from ear to ear.  First up, conquer the blazing sun with an ice-cold beer or a sip of sunshine in a tropical cocktail from 12 noon to 1 pm. It's not just a break; it's a tropical oasis in the midst of your day!
As the clock strikes 5, gear up for round two! From 5 pm to 6 pm, slide into a Happy Hour that sets the stage for an evening of deliciousness. You're invited to stick around because a scrumptious dinner is on the menu too!
The Reef isn't just a restaurant and bar; it's your front-row seat to stunning sunsets at Oistins Bay.
So why settle for one when you can have two, not-so-average Happy Hours, delicious eats, and sunset magic all at The Reef?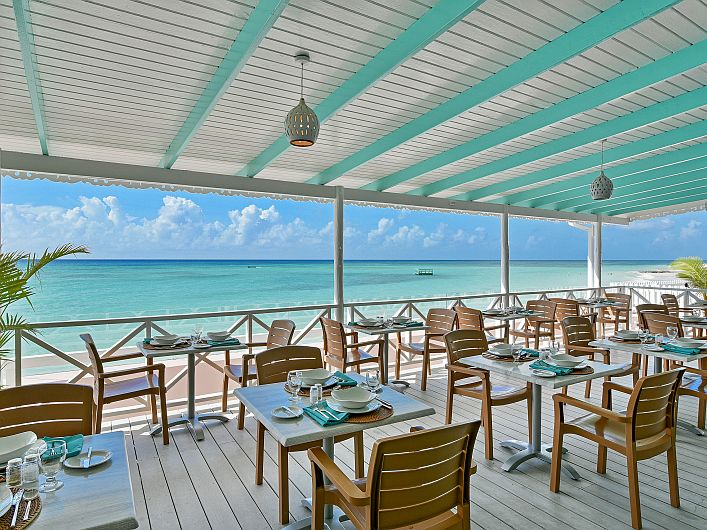 Happy Hours at The Reef Bar & Grill
Monday 12 - 1 pm
Monday 5 - 6 pm
Tuesday 12 - 1 pm
Tuesday 5 - 6 pm
Wednesday 12 - 1 pm
Wednesday 5 - 6 pm
Thursday 12 - 1 pm
Thursday 5 - 6 pm
Friday 12 - 1 pm
Friday 5 - 6 pm
Saturday 12 - 1 pm
Saturday 5 - 6 pm
Sunday 12 - 1 pm
Sunday 5 - 6 pm
Information posted on this website is accurate at the time of writing but is subject to change. Always
check directly with the venue
before visiting.
What Guests Say
"The rum punches we ordered were delicious, so we ordered more"
"The food is great, prices are decent & they have a ton of options! There is a 2 for 1 happy hour with by far one of the BEST Pina coladas ever!"
"Jerome's rum punches were addictive, very outstanding bartender."
"2 happy hours a day plus Monday cocktail evening were much appreciated."
"the Blue Lagoons are a little addicting"
Recommended Barbados Rum Experiences