Barbados' Foursquare Distillery has been recognized as Rum Producer of the Year… for the 8th year running!
The International Spirits Challenge (ISC) is an annual competition recognizing and celebrating excellence in spirits and alcoholic beverages. It's one of the most prestigious and respected spirits competitions globally.
For eight years in a row, Foursquare Rum Distillery has received the prestigious Key Tasting Award for Producer of the Year in the Rum category!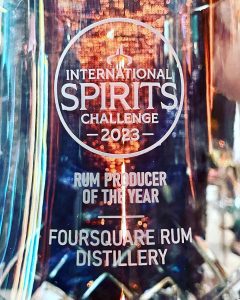 In the 1990s, the distillery was revived by the Seale family, who revitalized and modernized the Foursquare brand while honoring its historical legacy. Richard Seale, Foursquare's master distiller, explains their approach: "We are rooted in our philosophy; we are purists. The secret to a good rum is authenticity, complexity and balance."
In 2021, Seale was named as Master Distiller of the Year by the ISC, the first time that the award has been won by a rum producer. This is a true testament to the growing acceptance of rum as an elite spirit, to the quality of rum produced at Foursquare, and to Seale's mastery of his craft.
If you're visiting Barbados be sure to stop by the distillery where you're welcome to take a self-guided tour and sample their amazing rums! Or join a rum tour for the full Barbados rum experience.