Abbeville Bar & Restaurant
Although there's no fixed happy hour, this casual sports bar and restaurant serves up various cocktail specials each month. Check them on Instagram to see what's currently on offer.
Known as the "Home Of The Daiquiri" Abbeville a kaleidoscope of flavors, ranging from luscious strawberry and tropical mango to the exotic passion fruit, banana, peach, and refreshing watermelon. All immensely refreshing on a hot island day.
Abbeville also boasts a wide selection of classic cocktails: immerse yourself in the invigorating zest of a mojito, relish the tangy sweetness of a pina colada, or savor the timeless charm of a margarita. Their mudslide is a true crowd-pleaser that will leave you craving another!
Their extensive menu caters to all palates and preferences. From mouthwatering pizzas, handmade and expertly stone-fired, to juicy burgers, delectable sandwiches, succulent fish, tender steak, flavorful chicken, savory shrimp, hearty chili, loaded fries, and refreshing salads.
Sports action is showcased on numerous large TVs, strategically placed throughout the restaurant. For those seeking a more serene environment, head to the outdoor area surrounding a large koi pond.
Feeling lucky? Play the slots at the back of the restaurant.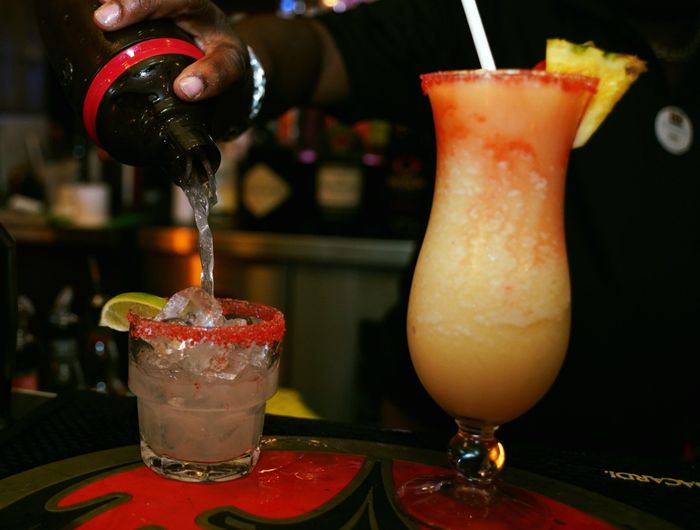 What Guests Say
"Food and drinks were great, service was great."
"drinks were mixed to perfection"
"Beer and food are all reasonable"
"Found the staff to be very attentive, the food was lovely, cocktails were lush."
Recommended Barbados Rum Experiences