Barbados Bars in Bathsheba
Head over to this charming seaside village on the rugged east coast of Barbados and be pleasantly surprised at the high quality restaurants and bars that blend beautifully with the natural surroundings and rural life of the area.
Bathsheba was historically a getaway spot for locals (long before the word 'staycation' was invented!) and a unique destination for visitors. Some of the island's first hotels were located here, with many travellers reaching the area via the train which ran from the capital city Bridgetown, through the countryside and up the eastern coastline. Several Bajans owned small vacation homes in Bathsheba and the nearby Cattlewash and Bath villages, often taking holidays there several times a year, lending them out to family & friends, and renting them for additional income.
Bathsheba continues to attract Bajans seeking respite from the everyday stresses of life, and visitors who are drawn by the natural beauty of this place... pounding surf, unique rock formations, and lush countryside.
It's a wonderful place to unwind with a few Banks beers or tropical cocktails, to kick off your shoes, close your eyes and enjoy the sounds of nature (and maybe a band playing nearby).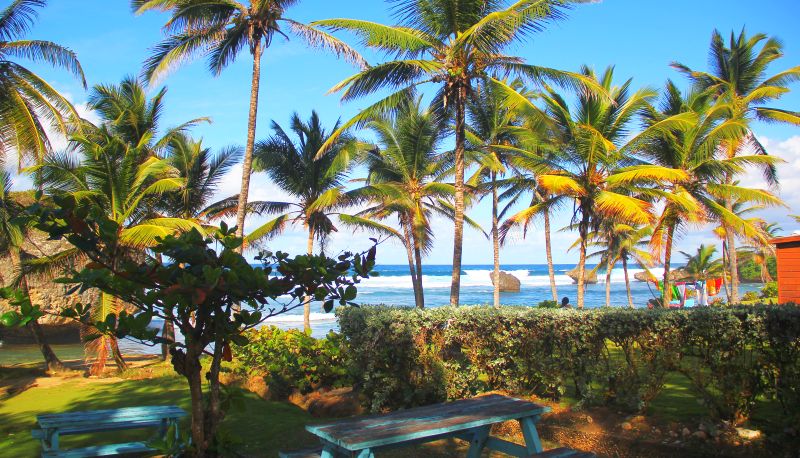 Insider Tips
Be sure to take a stroll on the beach to check out the intriguing rock formations out to sea. And speaking of rocks, the smaller ones found on the sea shore make an excellent paperweight and reminder of your visit to Bathsheba.
Barbados Rum Experiences

Info Of Interest
The name Bathsheba has biblical origins as the foamy white surf is said to be reminiscent of the milk in which Bathsheba, wife of King David, bathed.
Bathsheba is the surfing capital of Barbados, attracting surfers from around the globe.
Where To Stay In Bathsheba